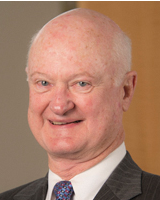 James W. O'Mara
Firm: Phelps Dunbar
Location: Jackson - MS
4270 I-55 North




Jackson, Mississippi 39211-6391




USA
Tel : 601-360-9720

Fax : 601-360-9777

Email : jim.omara@phelps.com

Jim O'Mara practices in the area of business with a focus on bankruptcy and creditors' rights, loan workouts, secured lending, commercial litigation and business transactions.
Awards and Recognition
Exclusive featured Attorney for Jackson MS, Premier Bankruptcy Lawyers (2020-2021)
AV Preeminent Peer Review Rated, Martindale-Hubbell
Chambers USA: America's Leading Lawyers for Business 
Bankruptcy and Creditor Rights/Insolvency and Reorganization Law, The Best Lawyers in America (1983-2020)
Mid-South Super Lawyers list, Super Lawyers (2006-2010)
Fellow, The Mississippi Bar
Experience
Lead attorney for the Debtor in the Mississippi Chemical Corp. consolidated cases, which were the largest, most complex Chapter 11 cases ever filed in Mississippi and in which the multiple Plans of Reorganization were confirmed and performed and the Unsecured Creditors, the pre-petition secured creditor group, the multiple groups of post-petition lenders and investors, and other significant parties were all represented by major New York City and Chicago law firms.
Lead attorney for Casino debtor in its Chapter 11 case in which the Plan of Reorganization was confirmed and performed.
Representation of international car rental company in connection with its claims against and contracts with a competitor who filed a Chapter 11 case.
Attorney for majority shareholders of a significant multi-state trucking company which was Debtor in a Chapter 11 case, and author of the confirmed and performed Plan of Reorganization.
Lead attorney for investor group which purchased substantially all operating assets from the Freide Goldman multi-state shipyard Chapter 11 case and which engaged in multiple complex loan and bond transactions with national lenders and governmental entities for continuing operations.
Lead attorney for major hotel and marina owner as Chapter 11 Debtor for whom a Plan of Reorganization was confirmed and performed.
Representation of national lender in connection with fully repaid pre-petition secured loans of $20 million plus and post-petition DIP financing concerning public-company tire manufacturer.
Representation of another national lender with large loans to Chapter 11 trucking company debtor secured by fleet of trucks in negotiating and enforcing agreements and orders for adequate protection payments.
Representation of another national lender with pre-petition loans of $30 million plus and post-petition DIP financing concerning a publicly*-held, national truckstop debtor, whose complex Chapter 11 Plan of Liquidation was confirmed and included liquidating trust provisions and avoiding extensive environmental exposures.
Representation of large insurance company with secured claims in separate operating cases by major hotel debtor and shopping center debtor.
Representation of two large national banks in connection with secured loans in separate Chapter 11 cases, for a publicly-held furniture manufacturing company so that foreclosure of its executive offices and manufacturing plant could occur and the other resulting in recovery of all proceeds of machinery and equipment collateral from a consensual sale.
Representation of publicly-held casino in defense of numerous claims by Chapter 11 casino debtor and ultimate negotiation and documentation of purchase of casino barge by client from bankruptcy estate.
Representation of state bank in numerous loan workout situations and foreclosure actions.
Representation of unsecured creditors committee in consolidated Chapter 11 case for four furniture manufacturing company debtors.
Representation of large multi-state financial institution in defending federal court and arbitration claims of alleged securities violations and fraud in a purchase transaction.
Representation of large insurance company in negotiating and documenting investments in major telecommunication venture and in new power generating plant.
Representation of national lender in negotiating and documenting new secured financing to oil field operator for restructuring and leveraged buyout.
Representation of another national lender in connection with substantial increase in lending limits for regional department store borrower, secured by real estate.
Representation of two New York money-center banks in documenting the Mississippi aspects of separate major lending transactions, one involving a multi-state warehouse operation and the other involving the construction of a new power generating facility, with the latter also including substantial real estate, regulatory and environmental work.
Representation of computer software company in negotiating and documenting sale of business and assets to New York-based national competitor.
Representation of telecommunication company in negotiating and documenting sale of business and assets to expanding local competitor.
Representation of national real estate company in connection with document and due diligence for purchase of three large apartment complexes.
Representation of numerous Mississippi corporations in connection with miscellaneous business, contract and general corporate matters and advice.
Representation of individual shareholders in two separate significant shareholder disputes, one involving a major construction company and the other involving a large catfish-growing company.
Representation of an attorney in successfully defending a legal malpractice claim asserted by a bankruptcy estate.
Representation of purchaser of a retail tire company in successfully defending a state court action by seller for alleged misrepresentation and fraud in the sale.
Representation of holder of promissory note in successfully suing FDIC/RTC in federal court for recovery of balance under promissory note issued by failed S&L.
Representation of a variety of numerous creditors in defending and successfully resolving preferential transfer and fraudulent conveyance actions brought by bankruptcy estates in numerous cases.
Memberships
The Mississippi Bar, Business Law Section, various committees
American Bankruptcy Institute
Mississippi Bankruptcy Conference  – Initial President & Board Member)
---
Phelps Dunbar
Our bankruptcy and creditors' rights practice attorneys have extensive experience in bankruptcy, commercial transactions, creditors' rights, collections and state foreclosure and liquidation law, as well as the interplay of those areas with litigation, business, property and environmental law. Our practice group represents clients before bankruptcy courts nationally, including the handling of matters before bankruptcy courts in Alabama, Arkansas, California, Delaware, Florida, Georgia, Indiana, Kansas, Louisiana, Mississippi, Missouri, New Jersey, New York, Pennsylvania, Tennessee and Texas.
In bankruptcy, we have acted as debtor's counsel and committee counsel and have represented numerous secured and unsecured creditors. Most recently, we have acted as debtor's counsel in the Chapter 11 filing of a regional grocery chain, one of the largest privately held companies in the United States. From the creditor's side, we provide counseling and representation to financial institutions and other parties doing business with financially distressed companies, as well as with bankruptcy trustees and debtors-in-possession. Our representation of creditors has included representing numerous corporate and individual clients in the largest fraudulent conveyance action ever filed in the State of Louisiana, consisting of claims in excess of $100 million. We also represent non-creditors whose rights have been affected by an associated bankruptcy filing, including insurance companies and reinsurers.
A significant portion of our practice also includes the enforcement of creditors' rights in the non-bankruptcy context for both regional and national clients, including the drafting of leases, commercial contracts and related documents, the enforcement of debt instruments, the enforcement of statutory and contractual lien rights and security interests, actions on guaranty contracts, foreclosure actions and problem loan/debt workouts.