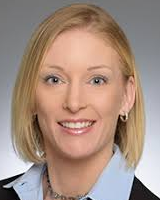 Ashley McDow
Firm: Foley & Lardner LLP
Location: Los Angeles - CA
555 South Flower Street Suite 3300




Los Angeles, CA 90071-2418




USA
Tel : 213.972.4615

Fax : 213.486.0065

Email : amcdow@foley.com

Ashley McDow is a partner with Foley & Lardner LLP, and is admitted to practice law in California and the state of Washington. Ashley is an insolvency and commercial lawyer with significant experience representing parties on every side of a transaction, including debtors-in-possession and creditors' committees, in both in-court and out-of-court restructurings. Ashley's experience spans a wide and diverse array of industries, ranging from healthcare to manufacturing, in chapters 7, 9 and 11 of the Bankruptcy Code. Consistently recognized as an exemplary attorney by members of both the bankruptcy bar and the bankruptcy bench, Ashley utilizes her holistic understanding of the bankruptcy process in order to effectively and efficiently represent the interests of her clients.
Ashley has been listed since 2016 in Chambers USA for Bankruptcy/Restructuring in California and as a Southern California Super Lawyers "Rising Star" since 2011. Ashley is the immediate Past Chair of both the Commercial Law Committee and the Executive Committee of the Commercial Law and Bankruptcy Section of the Los Angeles County Bar Association, serves on the editorial board of the California Bankruptcy Journal, and was hand-selected to serve on the United States Bankruptcy Court Central District of California Bar Advisory Board, an organization comprised of a number of bankruptcy judges currently serving on the bench in the Central District of California (including the chief bankruptcy judge), the United States Trustee for Region 16 and a few select restructuring practitioners who have demonstrated an unparalleled commitment to advancing the restructuring practice not only locally, but nationally. Ashley has also authored a number of publications on bankruptcy and commercial law topics, including critical vendor motions, perfection of security interests in intellectual property and the enforcement of state court judgments in bankruptcy.  In addition, Ashley has guest lectured at the University of California Irvine School of Law on insolvency and restructuring matters. Most recently, she was recognized as an honoree of the 2019 American Bankruptcy Institute "40 under 40" Emerging Leaders in insolvency, an award which recognizes insolvency professionals from around the globe under the age of 40 who are setting the standard for excellence in the field.
Experience
Represents a group of twenty-two long term care facilities, management companies and holding companies in their jointly administered Chapter 11 bankruptcy proceedings currently pending in the Western District of Washington.
Represents a chain of skilled nursing facilities throughout Southern California in a wide-array of matters, including the recent out-of-court restructuring of both debt and equity.
Represents purchasers of both OpCos and PropCos in transactions both in and out of bankruptcy.
Represents a payroll company that provides services to skilled nursing facilities throughout the country in a wide variety of healthcare transactions and litigation.
Represents a healthcare provider in the investigation of alleged misconduct within a governmental agency.
Represents a secured lender specializing in healthcare financing.
Represents a number of urgent care clinics in their recently confirmed jointly administered Chapter 11 bankruptcy proceedings.
Represents the debtor in possession of a commercial real estate development and management company worth nearly $40 million in its Chapter 11 reorganization.
Serves as counsel for the Chapter 7 trustee in the bankruptcy cases of two entertainment companies involved in the production and distribution of family-oriented films and television programming.
Serves as counsel for the Chapter 7 trustee in the bankruptcy proceeding of a well-known songwriter and record producer.
Represented a California Healthcare District in its Chapter 9 bankruptcy proceeding and represents the same California Healthcare District in novel litigation against its secured lender.
Represented a skilled nursing facility in its Chapter 11 bankruptcy proceeding in which the operations were transferred and nearly ten million dollars in governmental debt was favorably resolved.
Represented a landlord in the defense of an avoidance action seeking nearly $20 million dollars.
Represented the Chapter 7 trustee in an individual bankruptcy case involving the concealment of valuable assets through a series of transfers to domestic and offshore shell companies, and identified and liquidated assets sufficient to pay all claims in full.
Represented a finance company engaged in lending money for the purchase and lease of commercial and industrial equipment in various bankruptcy cases nationwide.
Served as special counsel for the liquidating trust of a national electronics retailer, representing the liquidating trust in its efforts to address a $30 million claim filed by the California Self-Insurers' Security Fund and recovering more than $10 million the fund drew from a line of credit secured by the company for potential workers' compensation liability.
*Certain of these matters occurred prior to Ashley joining Foley & Lardner LLP.
Education
J.D., Loyola Law School, 2006
B.A., University of Washington, 2003
Publications
Author, Debtors Beware: "The Precarious State of Chapter 11 for Individual Debtors Who Have Lost Control" April 7, 2017 (2A Bankr. Service L. Ed.§ 17:164)
Co-Author, "Nothing in Life is Guaranteed: The Impact of Bankruptcy on Enforcement of Personal Guaranties" California Business Law Practitioner, June 1, 2016
Co-Author, "Law v. Siegel- The End of Equitable Authority of the Bankruptcy Court" January 1, 2015, Vol. 33 Cal. Bankr. J. No. 2 (2015)
Presentations Include
Speaker, Los Angeles County Bar Association Program "Unique Issues In Healthcare Business Restructuring" (April 27, 2017)
Panelist, American Bankruptcy Institute Program "Involuntary Petitions – Issues to Consider Before Pulling the Trigger" (February 23, 2017)
Co-Speaker, Los Angeles County Bar Association Program "The Dawning of a New Era: Voidable Transactions Act of 2014" (October 17, 2016)
Speaker, Los Angeles County Bar Association Program "Don't Take it Personally: The Pitfalls of Personal Guarantees" (June 08, 2015)
---
Foley & Lardner LLP
When facing financial uncertainty and distress, Foley's Bankruptcy & Business Reorganizations Practice will help you limit losses and enhance value. Whether from the vantage of creditors seeking to maximize recoveries or debtors navigating unique challenges, Foley will partner with you to establish a clear and effective path forward.
With more than 60 restructuring professionals nationwide, Foley's practice is among the largest and most robust in the nation, representing myriad creditor and debtor constituencies. Foley's nationally recognized practice emphasizes practical solutions tailored to specific business needs.
Coupling business acumen and industry knowledge, Foley delivers thoughtful legal advice whether in a complex chapter 11, an out-of-court workout, state insolvency framework, creditors' rights litigation, or strategic acquisition or divestiture. Foley will serve as your trusted advisor and work each step of the way to craft proactive strategies for loss mitigation and counterparty risk as well as realignment in financially distressed industries. We share your vision and understand your particular needs. This is why Foley has become the law firm of choice for many of the most difficult and challenging high-stakes restructuring matters in the United States.