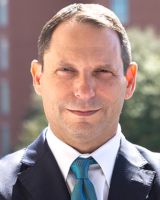 Brian G. Rich
Firm: Berger Singerman LLP
Location: Tallahassee - FL
313 North Monroe Street Suite 301




Tallahassee, FL 32301




USA
Tel : (850) 561-3010

Fax : (850) 561-3013

Email : brich@bergersingerman.com

Brian Rich's practice includes representation of debtors, creditors' committees, bankruptcy Trustees and secured creditors. Brian is consistently one of the firm's primary bankruptcy counsel in numerous complex Chapter 11 cases and out of court reorganizations, including matters involving healthcare companies such as hospitals.
Brian has prosecuted and defended numerous of adversary proceedings seeking the recovery of avoidable transfers in Bankruptcy Courts throughout the country. Additionally, he has represented numerous real estate developers in real estate "workouts" and restructurings. Brian has also represented bankruptcy trustees in numerous fraud related cases seeking recovery for victims of "Ponzi schemes" and real estate fraud.
During the course of the most recent severe economic crisis, Brian devoted a substantial part of his practice to representing developers and borrowers in out-of-court restructuring matters. These representations have included the negotiation of restructured loans, deeds-in-lieu of foreclosure and settlement of guaranty claims. Additionally, Brian represents clients seeking to purchase assets from troubled entities and loan portfolios. He has overseen the wind-down process of several large cases wherein the claims reconciliation process involved claims ranging from $100 million to over $1.5 billion. He services clients throughout the State of Florida and nationally, with a present focus on the Florida panhandle.
---
Berger Singerman LLP
From the Firm's offices in Miami, Fort Lauderdale, Boca Raton and in the state capital of Tallahassee, Berger Singerman serves a diverse client base with a Florida focus and international scope. We regularly practice all over the U.S. and frequently handle matters in Europe, Asia and South America.
We purposely limit our practice to areas in which our peers and credible third-party evaluators recognize us as among the very best in Florida. We pride ourselves on our ability to deliver creative, effective and passionate client service to resolve any problem and to take advantage of any opportunity.
Serving the needs of successful individuals in advancing their business interests, as well as in building and preserving their wealth, forms the strong foundation for our practice. In addition to assisting these clients to achieve their goals in business matters, we are proud of the depth of the expertise of our legal teams that primarily focus on the individual and family. We work closely with financial advisors, other law firms, accountants and trust companies to assist our clients in achieving their financial and philanthropic goals. We also represent a large number of leading companies. For these clients, we endeavor to provide legal competitive advantages for their businesses.