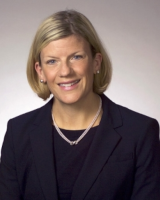 Brittany S. Ogden
Firm: Quarles & Brady LLP,
Location: Madison - WI
33 East Main Street Suite 900




Madison, Wisconsin 53703




USA
Tel : (608) 283-2457

Fax : (608) 251-9166

Email : brittany.ogden@quarles.com

Brittany Ogden is the chair of our Wisconsin Office's Bankruptcy, Restructuring, & Creditor's Rights Practice Group.
Brittany focuses her practice in business and commercial litigation, receiverships, bankruptcy, and creditors' rights matters. She has experience representing finance and leasing clients, assisting secured creditors, unsecured creditors, loan servicers, debtors, creditor committees, and trustees in Chapter 7, 11, 12 and 13 bankruptcy proceedings, Chapter 128 receiverships, state and federal court matters, including commercial foreclosures, workouts, collections, and lender liability actions. She also has significant experience in representing clients in the agricultural industry.
Some of Brittany's most recent bankruptcy and litigation experience includes:
Representation of numerous lenders and business owners in obtaining civil theft, conversion and non-discharge judgments.
Representation of financial institutions and businesses in various contested bankruptcy cases, including but not limited to alleged automatic stay violations, WCA, FDCPA, TCPA and FCRA claims, preference actions, and discharge violations.
Representation of equipment leasing company's interest in bankruptcy regarding assumption/rejection issues and lease recharacterization claims.
Representation of secured creditors with enforcement and recovery of equipment and judgments in multiple jurisdictions.
Dismissal of FDCPA action against a loan servicer in federal district court;
Litigation of stay relief and contested plan issues in Chapter 11 bankruptcy case involving manufacturing business.
---
Quarles & Brady LLP
Our Bankruptcy, Restructuring & Creditor's Rights Group works closely with clients to craft legal solutions consistent with their individual business objectives. We strive to understand their respective industries and unique operations, complementing these insights with our top-level knowledge of the law. We define the relevant options, discuss those alternatives in clear terms, and help our clients with the implementation of the most effective solutions.
Many of our attorneys have developed singular experience in a wide array of businesses and industries. By applying lessons that we have learned in the past to existing matters, we can provide substantial efficiency in our representation. Further, our attorneys have significant experience as litigators — rather than handing off the courtroom phase of a case to another team, we are able to handle virtually every aspect from start to finish, including trials and appeals.
We also provide focused representation to institutional health care lenders in all kinds of distress, bankruptcy, creditors' rights, and enforcement matters throughout the country. We have developed an institutional knowledge of, and proficiency in, the substantive health care industries in which many of our clients either operate or serve, and we are particularly conversant with the regulatory and legal issues that affect both our lender clients and borrowers in this area. This enables us to help our clients develop and implement sophisticated and creative strategies for dealing with all aspects of troubled loans to health care providers.