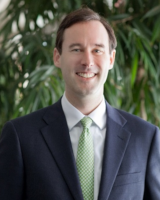 Craig M. Regens
Firm: GableGotwals
Location: Oklahoma City - OK
BOK Park Plaza




499 W. Sheridan Avenue, Suite 2200




Oklahoma City, OK 73102
Tel : 405.568.3313

Fax : 405.235.2875

Email : cregens@gablelaw.com

Craig M. Regens is a Shareholder in the Oklahoma City office of GableGotwals. His practice focuses on bankruptcy and business litigation, particularly of energy and environmental disputes. Due to his diverse experience, Craig represents a wide range of clients in federal and state courts as well as before the Oklahoma Corporation Commission.
Craig is recognized by Best Lawyers in America for his work in bankruptcy and creditor-debtor rights/insolvency and reorganization law. He is also recognized by Oklahoma Super Lawyers as a Rising Star for his bankruptcy, commercial, and energy and natural resources practices. Craig was one of 50 participants in the 2018 National Conference of Bankruptcy Judges' NextGen program. His bankruptcy practice includes representing creditors in main bankruptcy cases and litigation of adversary proceedings on behalf of creditors, trustees, and avoidance action defendants.
Current and recent bankruptcy engagements include:
Lead counsel to the Plan Administrator in In re White Star Petroleum Holdings, LLC, Case No. 19-12521-JDL (Bankr. W.D. Okla.) and in related adversary proceedings;
Co-counsel for the Debtors in In re White Star Petroleum Holdings, LLC, Case No. 19-12521-JDL (Bankr. W.D. Okla.) and in related adversary proceedings;
As lead counsel, representation of former directors and officers of a publicly-traded exploration and production company against preferential transfer and fraudulent conveyance claims;
Following conversion of Chapter 12 main case to Chapter 7, representation of trustee as special litigation counsel and of creditor in adversary proceeding seeking substantive consolidation of debtor's estate with a non-debtor partnership and non-debtor individuals, denial of debtor's discharge and non-dischargeability of certain debts, amongst other claims;
Representation of secured and unsecured creditors in main bankruptcy cases; and
Representation of secured creditor in adversary proceeding seeking determination that certain of debtor's debts are non-dischargeable.
Craig is a past Chair of the Bankruptcy Section of the Oklahoma County Bar Association. He also frequently provides professional education to groups of lawyers and other professionals. He has presented as part of the Oklahoma Bar Association's Advanced Bankruptcy Seminar and to county bar associations. For several years, Craig chaired a panel presentation on oil and gas Chapter 11 reorganizations for the Oklahoma Society of CPAs' Oil and Gas Conference.
Prior to joining GableGotwals, Craig served as a term and career law clerk to the Honorable Sarah A. Hall, then-Chief Judge of the U.S. Bankruptcy Court for the Western District of Oklahoma.
PRACTICE AREAS:
Litigation (State & Federal)
Business Restructuring, Workouts and Bankruptcy
EDUCATION:
J.D., University of Iowa College of Law, 2009
M.Sc., London School of Economics, 2003
B.A., University of Oklahoma, 2002
Awards and Honors:
Best Lawyers
Bankruptcy and Creditor Debtor Rights / Insolvency and Reorganization Law – 2018 – 2021
Super Lawyers
Rising Stars- 2017 -2019
Bankruptcy, Business Litigation, Energy & Resources
PROFESSIONAL AFFILIATIONS:
Oklahoma Bar Association
Oklahoma County Bar Association
Federal Bar Association
---
GableGotwals
GableGotwals ® is a full-service law firm of more than 100 attorneys representing a diversified client base across the nation. Though Oklahoma-based, our connections and reach are global. Fortune 500 corporations, entrepreneurs, privately owned companies, foundations and individuals entrust us every day with the stewardship and strategic management of their legal challenges. GableGotwals is well known for its high quality legal services provided by a highly experienced group of litigators and transactional attorneys who have been recognized by Chambers USA, Best Lawyers In America, Oklahoma Super Lawyers and a number of federal, state and county bar associations.
Difficult times require difficult choices for debtors and creditors alike. The array of legal options available and consequences to individuals and businesses experiencing financial trouble, as well as those to their creditors, may seem daunting. Especially in bankruptcy, where the pace is rapid and the substantive and procedural rules are complex. It counts to have skilled attorneys with the breadth of experience, depth of knowledge, and good judgment to constructively and aggressively work to resolve complex financial problems in an efficient and cost-effective manner.
GableGotwals' bankruptcy lawyers exemplify these traits and represent a wide range of debtor and creditor clients in all facets of collections, collateral liquidations and foreclosures, workouts, and bankruptcy restructuring efforts. Our experience involves representing business debtors, creditors' committees, financial institutions, landlords, and secured and unsecured creditors in cases not only within Oklahoma but also nationally.