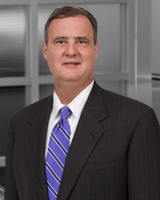 David Eades
Firm: Moore & Van Allen
Location: Charlotte - NC
100 North Tryon Street Suite 4700




Charlotte, NC 28202-4003




USA
Tel : (704) 331-1044

Fax : (704) 378-2044

Email : avideades@mvalaw.com

David Eades has over 30 years of experience as a financial restructuring and bankruptcy lawyer.  Lenders, administrative agents, collateral agents and indenture trustees call on him to represent them in complex workouts and bankruptcy proceedings. Eades has successfully represented numerous clients in workouts and bankruptcy proceedings across the country and across a wide spectrum of industries. Eades served as team leader for Moore & Van Allen's Bankruptcy and Financial Restructuring practice from 1993 through 2016.
OF NOTE
Member, Board of Directors, Charlotte's Urban Ministry Center.
Selected as a North Carolina Top Rated Lawyer by Martindale-Hubbell.
Included in Best Lawyers in America for Bankruptcy and Creditor Debtor Rights/Insolvency and Reorganization Law and Bankruptcy Litigation, 1999-2019.
Included in Business North Carolina's Legal Elite list, 2002-2016, 2018. His primary area of practice is Bankruptcy.
Included in Chambers Partners USA in North Carolina – Bankruptcy/Restructuring, 2004-2019.
Selected for inclusion to the North Carolina Super Lawyers list in 2006-2019. His primary area of practice is Bankruptcy & Creditor/Debtor Rights.
---
Moore & Van Allen
By striving for excellence, Moore & Van Allen has become one of the largest law firms in the Southeast, with regional offices and a national reputation. We did so by creating value for our blue-chip clients—large national banks, successful international manufacturers, growing healthcare and technology companies, noted retailers, and more– including 7 of the 12 Fortune 500 companies headquartered in North Carolina.
We help them succeed by working passionately on their behalf with innovative, diverse, talented and multifaceted lawyers recognized as legal innovators. At Moore & Van Allen, we provide creative solutions to complex legal challenges and high quality legal services in a multitude of practice areas.
Technologically progressive, culturally inclusive and community-spirited, we fuse an aggressive work ethic to careful and considered legal advice—and to traditional, personal client service. Our guiding objective is to add value to our clients, not only by meeting their goals and deadlines, but also by bringing our experience and energy to bear on their matters. We do this through our nationally recognized corporate and financial services work and in our equally sophisticated and varied legal services across practice groups and industries, from steel to pharmaceuticals, from energy to biotechnology, from real estate to transportation.