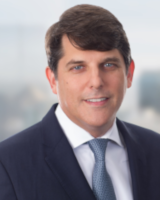 Harris B. Winsberg
Firm: Troutman Sanders LLP
Location: Atlanta - GA
600 Peachtree Street NE , Suite 3000




Atlanta, GA 30308




USA
Tel : 404.885.3348

Fax : N/A

Email : harris.winsberg@troutman.com

Harris helps clients solve the complex problems that arise in bankruptcy and out-of-court restructuring cases. He works with his clients to explore the range of options available to them and develop and execute a practical plan of action. Harris represents public and private companies, financial institutions, boards of directors, creditors, and other parties in all aspects of corporate restructurings, including workouts, bankruptcies, corporate governance matters, distressed asset sales and insolvency-related litigation. He also has experience developing and structuring finance transactions, including asset-based loans.
Representative Matters
Representing the U.S. subsidiary of a foreign bank in connection with the Chapter 11 bankruptcy filing of an international diamond and jewelry company.
Representing a public company that specializes in traveling exhibitions, including those with titanic artifacts, in its Chapter 11 bankruptcy case.
Advised a U.K.-based online fashion retailer acting as a stalking-horse purchaser in connection with the acquisition of a U.S.-based retailer through a Chapter 11 bankruptcy sale process.
Represented a 376-bed nonprofit hospital system in an out-of-court restructuring and asset sale.
Represented the former owners of cable television systems in connection with fraudulent transfer and aiding and abetting claims brought by a liquidation trust arising out of the $1.1 billion sale of the cable television systems.
Represented a car haul company and its affiliates in their Chapter 11 bankruptcy cases.
Advised an independent consultant for a national bank regarding an action overseen by federal regulators with respect to residential mortgage servicing and foreclosure laws.
---
Troutman Sanders LLP
A law firm is more than its head count, the number of its offices or its specific practice mix. Indeed, beyond the "what" and the "how" is the "why" — the core values that explain why this particular group of dedicated professionals has come together to provide clients with the benefit of their collective experience and expertise.
For Troutman Sanders, the "why" that binds us together as a firm matters to the kind of clients we excel at representing — clients who demand not only the highest caliber of legal work, but an equally satisfying relationship with their outside counsel. For us, practicing law is about commitment, and our "higher commitment to client care" is one of the most important values that differentiates us from other law firms. In recognition of our strong client service culture, our firm has been on the BTI Client Service A-Team for 13 consecutive years.