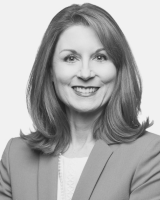 Jayna Partain Lamar
Firm: Maynard Cooper & Gale, P.C.
Location: Birmingham - AL
1901 Sixth Avenue North Suite 2400




Birmingham, AL 35203




USA
Tel : 205.254.1048

Fax : 205.714.6348

Email : jlamar@maynardcooper.com

​Jayna is a Shareholder and Co-Chair of the Bankruptcy and Restructuring Practice at Maynard Cooper. She represents banks, financial institutions, and other lenders as secured or unsecured creditors in commercial bankruptcy or reorganization proceedings and in loan workouts and debt restructuring efforts. She also provides representation for the committee of unsecured creditors in Chapter 11 cases, and she represents indenture trustees and bondholders on defaulted issues. As part of her creditors' rights practice, Jayna assists with commercial foreclosure proceedings and the exercise of Article 9 remedies.  Additionally, Jayna has advised commercial borrowers and other obligors regarding insolvency, default and restructuring issues.
Jayna also handles commercial litigation matters arising in bankruptcy proceedings or in other federal or state courts, ranging from the collection of sizable debts and obligations, to the defense of lender liability allegations, to contract disputes.
Her skills and accomplishments have earned her numerous accolades, including a top Band 1 ranking as a Leading Practitioner in Bankruptcy/Restructuring by Chambers USA: America's Leading Lawyers for Business. Best Lawyers® tapped her as the 2016 and 2020 "Lawyer of the Year" for the region in the area of Bankruptcy-Litigation and as the 2016 "Lawyer of the Year" for the region in Creditor Debtor Rights/Insolvency and Reorganization Law.  She has been listed for many years in Alabama and Mid-South Super Lawyers for Bankruptcy: Business and Creditors' Rights and has frequently been selected as a "Top 25 Women Lawyers" and "Top 50 Lawyers" by Alabama Super Lawyers, and "Top 50 Alabama Lawyers" and "Top 50 Women Lawyers" by Mid-South Super Lawyers. She holds an AV Preeminent Rating from Martindale-Hubbell.
Jayna earned her J.D. from Vanderbilt University School of Law and her B.A., summa cum laude, from the University of Alabama.
---
Maynard Cooper & Gale, P.C.
Maynard Cooper & Gale P.C. is a nationally recognized full-service law firm with more than 275 lawyers. Headquartered in Birmingham, Alabama, the firm has offices in New York, Los Angeles, San Francisco and Washington, D.C., as well as three additional offices throughout Alabama located in Huntsville, Mobile and Montgomery. The firm's record and reputation confirm that it delivers desired results for clients. Maynard solves tough, complex legal problems for many of the world's leading companies, including many that are listed on the Fortune 500. The firm places a high priority on having a full understanding of each client's business and the climate in which it operates, and its lawyers are well-equipped to help clients navigate challenges and prepare for what lies ahead. Maynard's keen knowledge of, and experience in, a wide range of industries, coupled with its consistent success in a dynamic legal environment, allows the firm to provide consummate service with the utmost attention to detail.