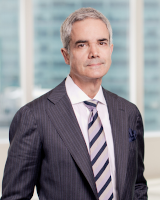 John J. Rapisardi
Firm: O'Melveny & Myers LLP.
Location: New York - NY
Times Square Tower 7 Times Square




New York, NY 10036




USA
Tel : 212-326-2000

Fax : N/A

Email : jrapisardi@omm.com

John J. Rapisardi, Chair of the Firm's Global Restructuring Practice, has 38 years of domestic and international debtor and creditor restructuring experience across a variety of industries, including automotive, chemical, environmental, health care, energy, gaming, retail, real estate, municipal, satellite, sports franchises, textile and telecommunications. John has been engaged as an advisor in several major governmental representations, including President Obama's Auto Task Force in the restructuring of General Motors and Chrysler. Because the strategies John put in place through credit bidding under Section 363 of the US Bankruptcy Code, the automakers were able to successfully emerge from chapter 11 in 42 and 40 days respectively. In addition, John represented the People's Republic of China in the drafting of its new bankruptcy law, and the Governor of California in the PG&E chapter 11 case.
Currently, John is leading O'Melveny's ongoing representation of the Government of Puerto Rico with respect to all aspects of the financial restructuring of Puerto Rico's debt obligations — marking the largest municipal restructuring in recent history. And at the height of the 2008 Economic Crisis, John served as lead debtor counsel for LyondellBasell, one of the world's largest petro chemical producers with subsidiaries across the world, which emerged from chapter 11 within 15 months. He advised in every aspect of its bankruptcy restructuring of more than US$ 25 billion in debt.
Consistently recognized as one of the leading restructuring lawyers in the US, Chambers USA has recently described John as a "tremendous lawyer" who is "well regarded in the industry" and praises his approach to both company and creditor-side transactions as "very measured, smart, diligent and thoughtful." For his representation of the US Treasury Department in the Chrysler, General Motors and Delphi restructuring, Chambers USA described John as a "go-to attorney on behalf of the US Treasury."
This past year he received the "Distinguished Leader" award from New York Law Journal.  Similarly US Legal 500 has continually named John among their Elite Leading Lawyers and noted that he is "a superb tactician," "a first rate restructuring lawyer – he combines knowledge of the law with the correct demeanor necessary to press his client's agenda without allowing his ego to interfere with success," and a "very smart, strategic thinker."  He was recently named in Who's Who Legal: Thought Leaders – Restructuring & Insolvency 2018, noting "he is reputed as one of the best in the business." The Best Lawyers in America also has continually selected John as a leading lawyer in Bankruptcy and Creditor-Debtor Rights, Insolvency and Reorganization, Bankruptcy Litigation. John is a member of the American College of Bankruptcy (ACB), an honorary professional and educational association of tenured and highly regarded bankruptcy and insolvency professionals.
John has written extensively on the subject of lender rights and remedies under the new Chinese Bankruptcy Code. John is co-author of The PRC Enterprise Bankruptcy Law: The People's Work in Progress (Beard Group, Inc., 2008) and for the past eighteen years, has been a regular bankruptcy columnist for the New York Law Journal. John has also written and lectured extensively on the key aspects of the Brazilian bankruptcy code and its impact on US investors.
Honors & Awards
Exclusive Featured Attorney for New York by Premier Bankruptcy Lawyers (2022)
Ranked in the Hall of Fame by The Legal 500 US  for Restructuring (Including Bankruptcy): Corporate (2020-2021) and Recommended for Restructuring (Including Bankruptcy): Municipal (2021)
Highly regarded by IFLR1000® for Restructuring (2019-2021)
Recognized as an Outstanding Restructuring Lawyer by Turnarounds & Workouts (2020)
Recognized by Best Lawyers® 2022 for Bet-the-Company Litigation, Bankruptcy and Creditor Debtor Rights / Insolvency & Reorganization Law, and Litigation – Bankruptcy in New York, NY; John has been listed in Best Lawyers® since 2007
Recognized in the US by Chambers Global for Bankruptcy/Restructuring (2018-2021)
Commended as one of the leading restructuring lawyers in the US by Chambers USA (2010-2021)
Selected as a Bankruptcy MVP by Law360 (2018)
Recommended in Restructuring & Insolvency by Who's Who Legal (2018-2020)
Recipient of Global M&A Network's Restructuring Leadership Award (2018)
Named Elite Leading Lawyer by The Legal 500 (2011-2012, 2016-2019)
Recognized as a Distinguished Leader by The New York Law Journal (2017)
Named in the 2016 annual listing of Top 100 Restructuring and Turnaround professionals by Global M&A Network
Inducted into the American College of Bankruptcy (ACB)
Named a "Super Lawyer" in Bankruptcy and Creditor-Debtor Rights (2006-2014)
Named a highly recommended international restructuring counsel in PLC Cross-border Restructuring and Insolvency Handbook
Professional Activities
Clerkships
Honorable Edward Ryan, Chief Bankruptcy Judge, Southern District, New York (1983-1985)
Author
John has been the featured bankruptcy columnist for the New York Law Journal for the last 25 years. He has authored or co-authored over 100 articles, and has written and lectured extensively on a wide swath of bankruptcy and restructuring topics.
"Bankruptcy Court Guidance on Force Majeure Clauses," New York Law Journal (June 5, 2020)
"Rejection of Gathering Agreements in Chapter 11," New York Law Journal (April 27, 2020)
"2020 Private Credit Overview and Update: Financing the Middle Market," ICLG Lending and Secured Finance Laws and Regulations 2020 (April 7, 2020)
"Chapter 11 Plan Support Agreements: Greasing the Wheels for Confirmation Success," The Bankruptcy Strategist (January 2020)
"Chapter 11 Plan Support Agreements: Greasing the Wheels for Confirmation Success," New York Law Journal (November 2019)
"The How, What and Why of a Potential PG&E Bankruptcy," New York Law Journal (January 2019)
"Second Circuit Affirms Rejection of 'Sabine' Gathering Agreements," New York Law Journal (August 2018)
"'In re Sabine': Gathering Agreements and Real Covenants," New York Law Journal (June 2016)
"Attention Lenders: Liens May Not Be as Secure as You Thought," New York Law Journal (Sept. 2015)
"Structured Dismissals of Chapter 11 Cases," New York Law Journal (July 2015)
"Revisiting 'Rede' and Recent Brazilian Restructuring Issues," New York Law Journal (May 2015)
"Revel Asset Sale Raises Important Distressed Real Estate Issue," New York Law Journal (March 2015)
"Chesapeake Energy Appeal Resolved in Favor of Noteholders," New York Law Journal (Jan. 2015)
Education
New York University, LL.M., 1985
Pace University, J.D., 1982: Pace Law Review
Fordham University, B.S., 1979: beta gamma sigma
Admissions
Bar Admissions
Court Admissions
US District Court, Southern District of New York
US Court of Appeals, First Circuit
---
O'Melveny & Myers LLP.
With some of the world's leading insolvency lawyers, O'Melveny helps clients face virtually any aspect of a restructuring matter—whether it be a company facing financial distress, significant creditors of a troubled company or an investor looking for the opportunity to purchase a distressed business or certain of its assets.
Our restructuring lawyers, many of whom are also experienced litigators, have played a leadership role in a number of the largest and highest profile restructuring matters in recent years, including the ongoing financial restructuring of Puerto Rico with more than US$70 billion of debt and the bankruptcies of Verso, Energy Future Holdings, LINN Energy, Homer City Generation, Colt Defense, Cal Dive International, Peabody Energy, Hancock Fabrics, New Century Financial, Dynegy,General Motors, and Chrysler. Our clients, which include some of the most well known names in finance, turn to O'Melveny in their most challenging times and when the stakes are at their highest. The reason is simple: for nearly a century O'Melveny has employed exceptional creativity and vigorous advocacy to preserve and maximize economic value for clients across industries and borders.
Our restructuring team has broad experience representing the full panoply of participants in bankruptcies and out-of-court restructurings. They include:
Debtors in chapter 11 bankruptcies and out-of-court restructurings
Investors in distressed debt
Ad hoc groups of secured and unsecured creditors;
Official committees of unsecured creditors;
Private equity sponsors and their distressed portfolio companies
Purchasers of distressed assets in section 363 and other distressed M&A transactions
Bank agents and indenture trustees
Providers of debtor-in-possession or exit financing
Given the complexity of the issues our clients face, we also draw on the firm's finance, capital markets, M&A, tax, labor, and litigation specialists to ensure all of our clients' interests are met.