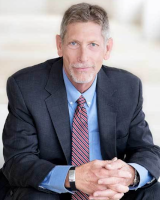 Lawrence A. Katz
Firm: Hirschler
Location: Tysons - VA
8270 Greensboro Drive Suite 700




Tysons, VA 22102




USA
Tel : 703.584.8900

Fax : 703.584.8901

Email : lkatz@hirschlerlaw.com

Larry brings both breadth and depth to the practice of bankruptcy, workouts, and commercial litigation. He has played every position on the field, representing debtors and creditors alike, in courtroom proceedings and boardroom negotiations. Among his debtor clients are real estate and hotel developers, business entrepreneurs, and commercial enterprises in Chapter 11 bankruptcy reorganizations, liquidations and out-of-court restructurings. His creditor clients include lenders and unsecured creditors' committees. As a complement to his work as a party advocate, Larry has been asked to serve as a mediator, an expert witness, a chapter 11 trustee in corporate and individual bankruptcy cases, and a liquidating trustee.
Depth comes from experience, and Larry has been honing his skills for the past forty years. He has applied these skills to a variety of industries, including real estate, retail, health care, hospitality, transportation, and communications. His most memorable experience was representing the committee of unsecured creditors in the chapter 11 case of Howard Delivery Service, Inc., a small West Virginia trucking company. Larry advocated for the rights of the creditors in the case all the way to the U.S. Supreme Court and succeeded in obtaining a landmark decision regarding creditor priorities in bankruptcy proceedings.
Prior to joining Hirschler Fleischer, Larry was a partner with Leach Travell, Venable LLP, Tucker Flyer P.C., and Zuckerman Spaeder LLP.
---
Hirschler
Hirschler is a national-caliber law firm based in Virginia. Invested in our clients and their success, our attorneys deliver smart solutions to important and often-complex legal issues. We are distinct in our deliberate service focus, partner involvement in client matters, and ability to deliver legal excellence and business efficiency.
Hirschler is invested in its clients and their success. Through a deep understanding of our clients, their businesses and their concerns, we are able to deliver smart solutions to important and often complex legal issues.
A firm of 80 lawyers isn't staffed to be full service, or offer "all things to all people." Instead, Hirschler focuses on a core group of practices that are supportive of the clients we serve and the industries in which they operate. Our deliberate service model means we collaborate to put the right players on the field without over-lawyering.