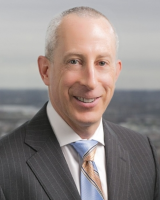 Richard M. Goldberg
Firm: Shapiro Sher
Location: Baltimore - MD
250 West Pratt Street Suite 2000




Baltimore, Maryland 21201




USA
Tel : 410.385.4274

Fax : 410.539.7611

Email : rmg@shapirosher.com

Richard M. Goldberg concentrates in bankruptcy, creditors' rights, workouts and commercial litigation. He has achieved favorable results for debtors, creditors' committees and trustees in numerous large corporate reorganizations, Chapter 11 and Chapter 7 proceedings and complex multi-party, out-of-court workouts. Mr. Goldberg has considerable experience representing financial institutions, developers, retail chains, home builders, commercial landlords, specialty lending institutions, trustees, insurance companies and government agencies in all aspects of Chapter 11 reorganization cases, Chapter 11 liquidations and large Chapter 7 liquidations. He has also successfully represented numerous parties seeking to acquire assets from bankruptcy estates.
In addition to his experience in traditional bankruptcy areas and the significant litigation that arises within most bankruptcy cases, Mr. Goldberg represents parties in a wide variety of commercial litigation matters, including commercial contractual disputes, commercial real estate transactions and the Uniform Commercial Code, in state and federal trial and appellate courts.
Widely respected for the depth of his knowledge, he has been declared and has testified as an expert witness on commercial transactions, commercial litigation and the reasonableness of attorney fees in commercial litigation and transactions.
---
Shapiro Sher
At Shapiro Sher, our success is driven by a fundamental belief: the companies and individuals who place their trust in us deserve the close attention of deeply experienced attorneys. That's why we bring senior talent to bear on every matter. In all areas of bankruptcy, business law, and litigation, the strategies we provide are planned and executed by attorneys practicing at the top of their profession.
When you hire Shapiro Sher, you get an efficient team gifted with the ingenuity and foresight that only come with years of hard-fought accomplishment. We pride ourselves in our ability to do more with a select group than our competition manages with large cadres of lawyers.
With offices in Baltimore and Washington, D.C., the Firm's attorneys have earned reputations that reach well beyond the Mid-Atlantic region. Our business lawyers are at the heart of major transactions in all industry sectors across the country and abroad. Our litigators serve as counsel in cases of national consequence, and our bankruptcy practice is international in scope.
Since our founding in 1972 by Ronald M. Shapiro, the Firm has provided invaluable representation to Fortune 100 corporations, emerging growth businesses, governments, non-profits, and individuals. An unusually large proportion of our attorneys are regularly cited in publications devoted to identifying top legal talent.