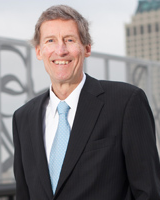 Sam G. Bratton, II
Firm: Doerner, Saunders, Daniel & Anderson, LLP
Location: Tulsa - OK
Two West Second Street, Suite 700




Tulsa, OK 74103-3117




USA
Tel : 918.591.5215

Fax : 918.925.5215

Email : sbratton@dsda.com

Sam G. Bratton has substantial experience in all phases of creditors' rights, financial restructuring and bankruptcy, including representation of debtors, trustees, committees, secured and unsecured creditors, equity interests and purchasers, as well as in wealth management.  Sam heads the firm's Creditor's Rights, Restructuring and Bankruptcy Practice Group and is one of the Firm's principal bankruptcy, restructuring and workout attorneys.
Sam is a frequent seminar lecturer on the subject of bankruptcy. He is a director and past chair of the Bankruptcy and Reorganization Section of the Oklahoma Bar Association, and chaired the Advisory Committee on Local Rules of procedure for the United States Bankruptcy Court for the Northern District of Oklahoma. Mr. Bratton is also an Adjunct Settlement Judge for the Bankruptcy Court and previously served as a Special Judge of the Oklahoma Court of Appeals, Temporary Division.
Honors and Awards
Exclusive Featured Attorney for Tulsa, Premier Bankruptcy Lawyers (2019 – 2020)
Listed in Best Lawyers for Bankruptcy and Creditor Debtor Rights/Insolvency and Reorganization Law, Litigation-Bankruptcy, 1987-2020
Best Lawyers – 2013 Tulsa Litigation – Bankruptcy and Creditor Debtor Rights/Insolvency and Reorganization Law "Lawyer of the Year"
AV® Preeminent™ Martindale-Hubbell Peer Review Rating
Tulsa's Best Lawyers, Tulsa People Magazine
Listed in Super Lawyers®, 2007-2020
Previously listed in Who's Who in American Law
---
Doerner, Saunders, Daniel & Anderson, LLP
Doerner lawyers have decades of experience representing all key parties involved in bankruptcy or reorganization: debtors, secured and unsecured creditors, committees, trustees and investors. We are experienced in all aspects of Chapter 11 bankruptcy proceedings and in such highly specialized areas as Chapter 9 municipal bankruptcies, single-asset real estate cases and small business reorganizations. In all matters our key strength is facilitating restructurings and reorganizations that preserve assets and business relationships for all stakeholders.
Our firm has handled small bankruptcies and multi-billion dollar proceedings involving oil and gas businesses, manufacturers, retailers and distributors, service and financial entities and all forms of commercial real estate. Our representation of Official Committees offers a 30-plus year record of unsurpassed effectiveness. A deep bench of skills in employment, environmental, oil and gas, transactional and real estate law, among other specialties, enables us to handle the business issues of a liquidation, asset purchase or sale, workout or receivership.
We recognize that establishing confidence and trust with our clients is crucial for handling bankruptcy or restructuring successfully. The officers and directors of companies involved in these proceedings are in a new and stressful environment, and our lawyers are always accessible at any time to give guidance and reassurance. When trustees for bankrupt companies target corporate officers and directors for financial responsibility, we vigorously defend their interests against claimed fiduciary breaches and liability.