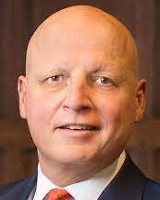 Scott P. Vaughn
Firm: McGuireWoods
Location: Charlotte - NC
201 North Tryon Street Suite 3000




Charlotte, NC 28202-2146




USA
Tel : 704 343 2066

Fax : 704 444 8778

Email : SVaughn@mcguirewoods.com

Scott primarily represents financial institutions in corporate restructuring, refinancing and all phases of bankruptcy proceedings.
He has lectured on bankruptcy law and creditors rights issues for the North Carolina Bar Association, the Mecklenburg County Bar, and numerous banking and finance trade groups. He is former managing partner of the firm's Charlotte office.
Experience
Restructuring of syndicated indebtedness of public international utility power provider on behalf of Bank Group Agent.
Restructuring of syndicated indebtedness of national automotive dealer on behalf of Bank Group Administrative Agent.
Collateralization and restructure of syndicated indebtedness of public boutique hotel chain on behalf of Bank Group Agent.
Representation of agent in restructure of syndicated facility to international health care MIS provider.
Representation of an international hedge fund in connection with transfer of servicing and bankruptcy related to $100MM distressed loan portfolio.
Representation of a major financial institution in $25 million debtor in possession facility to automotive OEM parts supplier.
Negotiation of a settlement of multimillion-dollar preference litigation for national power supplier resulting in significant recovery against debtor.
Recognition
Exclusive Featured Attorney Representing Charlotte NC in Premier Bankruptcy Lawyers 2021 – 2022
Selected for inclusion in The Best Lawyers in America, Bankruptcy and Creditor Debtor Rights, Insolvency and Reorganization Law, 2009-2016, 2018-2022; Litigation – Bankruptcy, 2018-2022, Woodward/White, Inc.
Selected for inclusion in America's Leading Lawyers for Business, Bankruptcy/Restructuring, North Carolina, Chambers USA, 2008-2021
Selected for inclusion into the North Carolina Pro Bono Honor Society, 2020
Named to "Legal Elite," Bankruptcy, Business North Carolina, 2019, 2020, 2021
Selected for inclusion in The Lawdragon 500 Leading U.S. Bankruptcy & Restructuring Lawyers, 2020
Named to "North Carolina Super Lawyers," Bankruptcy & Creditor/Debtor Rights, Banking, Super Lawyers, Thomson Reuters, 2007-2019
Named "Lawyer of the Year," Bankruptcy and Creditor Debtor Rights / Insolvency and Reorganization Law, Charlotte, Best Lawyers, 2017
AV Rated, Martindale-Hubbell
Education
The University of North Carolina School of Law, JD, with Honors, 1986
The University of North Carolina at Chapel Hill, BS, 1983
Affiliations
Member, Bankruptcy Section, North Carolina Bar Association
Board of Directors, United Way of Central Carolinas
Board of Directors, Social Venture Partners
Youth Advocate, Stonewall Jackson Youth Development Center
---
McGuireWoods
With approximately 30 restructuring and insolvency lawyers, 90 syndicated debt finance lawyers and 250 commercial litigation lawyers, McGuireWoods has one of the country's largest financial restructuring teams specializing in creditors' rights. We are dedicated to collaborating across practices to deliver excellent service to our lending clients and provide them with the market knowledge and cost-effective solutions that they need to successfully restructure their distressed loans.
Financial Restructurings
McGuireWoods is a proven leader in the representation of lenders in complex out-of-court and in-court financial restructurings and recapitalizations. We regularly represent lenders in their capacity as administrative agents for syndicates in some of the largest restructurings and bankruptcy proceedings in the country. We also regularly represent lenders in club loans and bilateral facilities to middle-market borrowers.
Our lawyers efficiently execute best practices with respect to financially distressed loans, with significant experience in a wide range of industries and a broad array of capital structures.  We regularly achieve consensual out-of-court solutions that include significant revisions to the original capital structure, and are equally comfortable effectuating non-consensual enforcement transactions through the remedial provisions of the Uniform Commercial Code and obtaining maximum recoveries through a restructuring or exit transaction effectuated through pre-arranged or traditional bankruptcy proceedings.
As a result of the continuing active market in distressed debt, lender group members often have differing goals in a financial restructuring. Our lawyers have earned a stellar reputation for managing the diverse interests of lenders toward a common end in very difficult situations.
Incremental Liquidity
Our lawyers understand that a borrower often needs immediate access to working capital, and as a result our clients are often called upon to make very quick decisions to accommodate a borrower's special liquidity needs. Experience, judgment and the ability to quickly structure and document such incremental liquidity can be critical to preserving going concern value.
Our lawyers regularly represent lenders in connection with establishing incremental liquidity through additional sponsor, third-party or existing lender financing, structured on a junior basis or through an amendment to an existing loan facility or the establishment of a separate senior facility.
In addition, we regularly represent lead lenders in making loans to borrowers as debtors-in-possession. Those loans are often "defensive," and made to protect or improve their pre-petition credit positions. Other times they are "offensive," where the primary motivation is the potential profitability of the transaction and the opportunity to provide exit financing.
Courtroom Litigation
As creditor's rights advocates, we have successfully commenced litigation outside of bankruptcy to enforce lenders' liens, security interests, guarantees and other rights to payment. We have been highly successful in contested matters and adversary proceedings before the bankruptcy and district courts, including the prosecution of actions involving the automatic stay, the provisions of adequate protection, the use of cash collateral, the debtor's exclusive right to file a Chapter 11 plan, and the confirmation of a Chapter 11 plan, as well as the defense of preference, fraudulent transfer and lender liability claims.
When appropriate, we collaborate with our select team of appellate lawyers, which include former attorneys general and assistant attorneys general. Our team of fewer than 40 lawyers successfully brief and argue dozens of appeals each year in federal and state courts. Our clients trust us to defend lower court wins and to attack dangerous losses.
In addition, we recognize that discovery can play an important role in the efficient and successful resolution of litigation matters. Our document collection and discovery processes are among the most sophisticated available today. Clients receive not only senior-level, hands-on discovery advice, but also the unique services of in-house specialists experienced in running advanced case management and trial presentation software. We invest significantly in innovative technology to improve efficiency and client service.