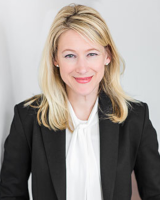 Tracy A. Kennedy
Firm: Zimney Foster P.C.
Location: Grand Forks - ND
3100 South Columbia Rd, Suite 200




Grand Forks, ND 58201




USA
Tel : (701) 772-8111

Fax : (701) 772-7328

Email : tracykennedy@northdakotalaw.net

Tracy A. Kennedy joined the firm in 1999. She is a Partner at Zimney Foster and her practice is devoted to banking law, commercial loan documentation, credit workout and restructuring as well as creditor's rights, credit enforcement, agricultural lending and credit transactions. She is adjunct faculty at the University of North Dakota School of Law, where she teaches UCC Article 9 Secured Transactions. She is listed in Chambers USA's America's Leading Business Lawyers, and a Fellow in American College of Commercial Lawyers. She is co-author of Revised UCC Article 9 Transactions (UND Publishing). Tracy enjoys presenting seminars to various legal and lending organizations in commercial topics such as loan documentation, Uniform Commercial Code, loan workouts, agricultural liens, collection law, foreclosures and bankruptcy. In her free time she enjoys volunteering for North Dakota Special Olympics and serving on their State Finance Committee.
Tracy earned her BA Degree from Minot State University in 1994, and obtained her J.D. Degree from the University of North Dakota School of Law in 1999. She served as an associate editor of the North Dakota Law Review. Tracy practices in North Dakota and Minnesota State Courts, and in the US District Court for the States of North Dakota and Minnesota and the US Court of Appeals for the Eighth Circuit.
---
Zimney Foster P.C.
Founded in 1932 in Grand Forks, North Dakota, Zimney Foster P.C. has been providing exceptional, reliable service to clients for more than 75 years. We offer a broad range of legal services to individuals, small businesses, financial institutions throughout North Dakota and Minnesota, as well as nationally-known corporations throughout the United States. The attorneys at Zimney Foster P.C. specialize in a variety of legal areas including Banking and Commercial Law, Business Law, Construction Law, Family Law, Insurance Law, Mediation, Personal Injury Law, Real Estate Law and Estate Planning. We are dedicated to following the highest level of ethics and professionalism, to thoroughly understanding our clients' needs and to providing high-quality, cost-effective solutions for each client's individual legal issue.