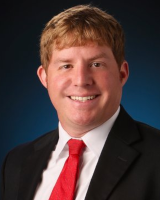 Weston Overturf
Firm: Mattingly Burke Cohen & Biederman LLP.
Location: Indianapolis - IN
155 E. Market St, Suite 400




Indianapolis, IN 46204




USA
Tel : 317-664-713

Fax : N/A

Email : wes.overturf@mbcblaw.com

Weston leads MBCB's bankruptcy and creditors' rights practice, and represents creditors, debtors and other interest holders in Chapter 7, 11, 12 and 13 bankruptcy cases in the Southern District and the Northern District of Indiana.   Weston also represents clients in all phases of foreclosures, collections, restructurings, and insolvency as well as providing services to clients before various taxing authorities.
Weston brings more than a decade of experience in a variety of creditors' rights, bankruptcy, and transactional matters to MBCB. With a background of representing business and individuals on all sides of these issues, Wes is uniquely positioned to serve his clients.
A skilled litigator and transactional attorney, Weston's practice includes providing legal counsel to individuals, businesses and financial institutions on transactional matters like contracts, and transfer or corporate assets.  In his 11 years of experience as a lawyer, Weston developed deep expertise in asset protection, planning, mergers, and acquisitions in the context of a 363 sale in the bankruptcy process, and creditor collection violations.
Weston graduated from the University of Dayton School of Law in 2007. He earned his Artium Baccalaurei in Liberal Arts from Wabash College in 2004 where he majored in German, with minors in Economics, Religion and an area of concentration in International Studies. He is the recipient of numerous awards including the Indiana Super Lawyers Rising Star 2014-2018 Award, and the 2013 Indiana Lawyer Up and Coming Lawyer, Leadership in Law Award.
Weston is a member of the Indiana State Bar Association and the Indianapolis Bar Association, where is is a Committee Member of the Commercial and Bankruptcy Law Section. He is admitted to practice before the United States District Courts for the Southern District and Northern District of Indiana.  Weston is also the President of the Housing Corporation of the Delta Chi Chapter of Sigma Chi Fraternity.
Wes has been recognized as a Super Lawyer Rising Star in the area of Bankruptcy in every year from 2014 through 2018.
Representative Matters
In Re: Tingle, No. 17-30531. 2018 WL 6173427
In Re: GIV Green Tree Mall Investor, LLC v. Subway Real Estate Corp. 2018 WL 3231464
In Re: Robin A. Lacy & Page Lacy, 2008 WL 4000176
---
Mattingly Burke Cohen & Biederman LLP.
MBCB's bankruptcy and creditors' rights practice services individuals and businesses throughout the state of Indiana as well as other jurisdictions in an array of bankruptcy, litigation, and transactional matters. Led by Weston Overturf, our team of attorneys are seasoned in workout negotiations, restructurings, Chapter 7, 11, 12 and 13 bankruptcy cases, trustee representation, litigating and resolving tax obligations and disputes, transactional issues, foreclosures, receiverships, collections, commercial litigation, landlord/tenant litigation, loan documentation, lender liability issues, and regulation and compliance issues. We are uniquely quipped to handle a wide range of financial issues facing clients large or small.